Elena Gilliam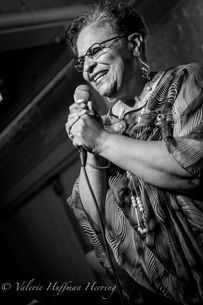 Honored as a Living Legend of Jazz by Living Legends Inc. in Los Angeles, California, Elena Gilliam is an astonishing jazz vocalist with a rare depth of natural talent.  Her level of performance is widely applauded as analogous with such jazz greats as Lena Horne, Ella Fitzgerald, Dinah Washington and the like.  Her unique rich, eloquent tones and brilliant phrasing take you on a musical journey of jazz, swing, standards, latin and blues.  Elena charms you with her animated "scatting" that exemplifies her musical versatility, while she cleverly connects you to song lyrics.  Her confidence, enthusiasm and love for music shine through every performance.  Her extraordinary sound is indeed a treat for anyone who appreciates a true songstress. 
Elena has been featured at countless events (both public and private) at venues such as; the Hyatt Newporter Jazz Festival, the KKJZ 88.1 Jazz and Blues Sunday Brunch at the Hollywood Lowes, Spaghettini Grill & Jazz Club in Seal Beach, The Lighthouse Café in Hermosa Beach, the Festival of the Arts Laguna Beach Tivoli Terrace summer jazz, at Jazz at Bayside Restaurant in Newport Beach.  Currently, you can find Elena at various local Jazz venues; the Port Restaurant in Corona del Mar, the Black Marlin in Tustin and Brix at the Shore in Long Beach, Malarkey's in Long Beach and others!
"Elena is a true Jazz Vocalist!" Quotes renown pianist/band leader Ron Kobayashi (credits; Mel Torme, Kenny Burrell).  Elena strives for the best sound and surrounds herself with amazing musicians like Ron, George Gilliam (phenomenal guitarist), Llew Matthews (credits; Nancy Wilson's musical arranger and director, Kenny Burrell), Henry "Skipper" Franklin, LA Living Legend of Jazz (credits; Joe Williams, Sonny Rollins), Donald Dean, LA Living Legend of Jazz (Les McCann and Eddie Harris), Brad Bobo (Eddie Harris, Linda Hopkins), Jane Getz (Dale Fielder Quartet, Charles Mingus), and countless others!  
Elena's love of music and comfort with the stage are qualities she shares with young artists in the community.  She has a strong commitment to foster personal growth through art and music. As a recipient of the 2014 Kenneth A. Picerne Foundation Artist Outreach Project, Elena developed workshops for at risk teens.  She continues her work encouraging young adults to build personal strength through performance. 
Her admiration of "the arts", brought about Elena's production of The Art of JAZZ held at the Muzeo of Anaheim, showcasing music and visual art through an outstanding art exhibit and jazz concert.  She combined both art forms that featured both local young talent and renown jazz musicians; Jane Getz, Fritz Wise, Brad Bobo, George J. Gilliam.  
Elena's recording career began at Capitol Records with the prestigious Charles Rutherford Jazz Ensemble and Jazz Pacific Orchestra.  Dr. Rutherford became her mentor as he showcased her phenomenal talent at live concerts and events.  As she continued with her own group, Elena developed a unique sound and style lovingly admired by her fans.  After being invited for many recordings over the years, Elena released her own powerful CD, "Moments in Time" that showcases a mix of beloved songs from her musical journey.  Elena is anxiously working on her new CD, breathing new life into beloved classics and adding a few original tunes with her phenomenal music director/accompanist Michael Le Van.  Michael's depth as a composer and arranger are unmatched in the jazz world.
Her journey continues with natural style, versatility and enthusiasm relished by her following.  Elena's sound will enrapture and delight your heart!